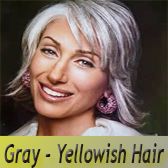 How to prevent gray hair from turning yellow
depends on many factors. Some of these factors are related to the products you use, or related to the environment or water you use to wash your hair.
Some mature individuals do not like to dye their gray hair, they are kind of " Proud " to have it, and they do not mind it.

But really they do not like to dye it. That is why they are always searching for a solution for their gray hair that is turning yellow.
Tips To Prevent gray hair turning yellow.
As explained above that there are two main reasons that will help in preventing gray hair from turning yellow.
Environment Related:
Water Deposits such as chlorine, and other compound residues

Solution: Use a water filter when taking a shower


Sunlight

Solution: Wear a hat when you are in the sun.


Scalp oil can change gray hair to some kind of yellow
Hair Products Related:
When using a hair product, such as shampoo and conditioner, make sure you get the clear type and avoid the yellowish color products. The reason behind that the yellow colored hair products might leave a trace on your hair.
Solution
: Try products that address this problem. Get shampoos that are nutritious and fortifying types.
Share this article...