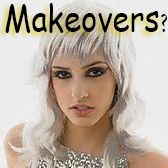 Best Gray Hair Makeovers - Beautiful Gray hair makeovers Videos
Gray hair makeovers videos
are a great way to make the transition on graying easy. Newly grayed hair people try to find all what they can do if they choose not to dye their hair. Different choices are available to have the
best gray hair makeover
to suit your look or your taste.
Best Gray Hair makeovers Styles:
Some people start to see gray hair around temples and ears. It looks kind of unique. If they do not want to dye it, they can have a black low-lights to kick up the contrast between the natural hair color and the gray dye. that keeps distinct from looking faded as we know more gray to come. The black low-light gives a clear gloss to boot shine, and it is sexy and fashionable.
When getting gray hair in the back of your head, consider a hair cut with few layers around the face to ease the look. try to bring the stunning cheekbones by using hot rollers to get the style body and waves.
When getting the gray hair in the front and your hair has a coarse texture, try to use a leave in conditioner once a day and after that use spray to control frizz and get that amazing shine. get some deep conditioning treatment and apply it once a week. Try to leave it in as long overnight or as much as you can.
So you are blond and you spot the gray hair crawling. try to get a gold allover base color to match hair your color and complexion, so you do not look washed out. Add dimension to your hair by using gold, or baby honey highlights.
When having a heavy and limp hair with little gray, get a slightly layered hair style and body enhancing products to hair look fuller.
Letting gray hair grow naturally is OK with plenty of people, but sometimes turn yellowish. Use violet shampoo to remove dull yellow and enhance the gray. Try to apply a Gloss to add sine.
The
makeover Guy
has done the best gray hair makeover videos and he is really one of the best to watch styling with all the different bright ideas.
Share this article...